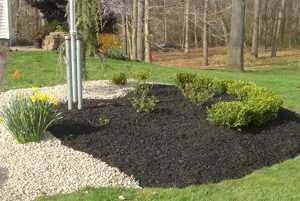 Mulches are commonly used on commercial and residential properties. They improve the appearance of the outdoor spaces, help retain moisture in the soil and add nutrients to it as well. But this can happen only when the mulches are chosen with care and installed well.
If you want outdoor spaces that are beautiful, sustainable and durable, you need the mulching services of experts like the ones at A-1 Snowplowing & Landscaping LLC. We have handled projects for clients in and around Bloomfield, Coventry, East Windsor for over 17 years.
In this time, our team has also handled a significant number of projects in Ellington, Enfield, Hartford. We have also designed stone yards in Hebron, Manchester, Somers, South Windsor as well as the surrounding areas.
Mulch
Mulch is simply a layer of material that is spread on top of the soil around the base of your plants, shrubs or trees. Adding mulch to your garden has many benefits such as:
Mulch prevents soil erosion
Conserves water and reduces the need to water your plants often
Provides for more even ground temperature
Discourages weed growth
Gives your garden a neater, more organized appearance.
There are a variety of natural and organic mulches to choose from and we will provide you all the information you need about these products.
Decorative Stone
Decorative stone, rock,and gravel have multiple uses in and around your home. Rock is a highly popular "hardscape" material and is used for such diverse purposes as mulch, ground cover, driveways and filler around pools and patios. Used as mulch, stone helps retain soil moisture, blocks weed growth and enhance drainage.
Stone Yard Installations
Many landscapes have a number of natural stone features and installing these materials in the landscape is a great way to reduce maintenance, add resilience and durability to the outdoor spaces of your property. Stone can also be used in gardens to create:
Driveways, Walkways, Paths
Patios and Decks
Entryways and Courtyards
Terraced Gardens
Steps
Seating Walls
Fireplace and Fire Pit zones
Other
Aspects to Take Into Account
Stone is an excellent material for yards and gardens because it provides excellent erosion control. Before you buy decorative stone, consider the following questions:
Are you looking for ground cover that will stay in place?
What color rock would look nice near your house?
How do you prep an area to put down decorative stone?
How much rock will you need to cover your area?
What type of rock is good for use in your driveway?
Types of Stones
Since there are many different types of stone to choose from our team will first understand your ideas and the look you want to create in the space. Based on this, they will provide suggestions and you can choose from natural stones such as:
Flagstone
Sandstone
Slate
Bluestone
Travertine
Granite
Marble
Other
If you are looking for mulching and stone yard services that are customized to your needs, feel free to contact A-1 Snowplowing & Landscaping LLC at 860-872-6022. You can also send us details about your requirement through this Online Form and we will respond shortly.