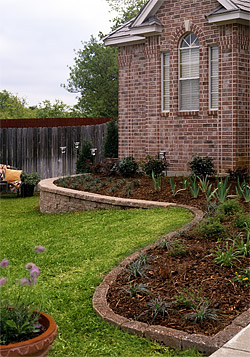 You can add beauty and street appeal by designing and planning a makeover for your residential or commercial property. By utilizing your landscaped areas and making them appealing by adding plants, shrubs, flowers, and trees, you are extending the use of your property. You will find that entertaining outdoors becomes a lot more frequent.
Landscaping isn't a job that you can entrust to inexperienced professionals. If you want outdoor spaces that are beautiful, sustainable and durable, you need the services of experts like the ones at A-1 Snowplowing & Landscaping LLC. We have been serving clients in and around Bloomfield, Coventry, and East Windsor for over 17 years.
In this time, our team has also handled a significant number of projects in Ellington, Enfield, and Hartford. We have designed creative and practical landscapes in Hebron, Manchester, Somers, South Windsor as well as the surrounding areas.
Design and Installation of Plantings
When you contact us with your plantings requirements, we follow a very methodical approach in our work:
Our team will visit your site and conduct a survey of the available space
They will have detailed discussions with you to understand what your specific needs and ideas are.
The experts will present a variety of plantings and trees to choose from.
Once you have made your choice we will start the installation process.

Working with the expert horticulturists at our company means you get excellent advice in the planning and designing phase. This is a very important aspect of the job as landscaping is far more than just buying some plants, shrubs, and trees and installing them.
Landscaping Aspects and Plans
When we are handling these jobs, some of the aspects we focus on include:
The available space
Type of soil and climate in the region
Colors of different plants and trees
Installation of perennials and annuals
Whether you want any specific fruiting and flowering trees
The aesthetic you want to create in your landscape
Water-efficiency of the landscape
Irrigation and drainage installations
Custom Planting Solutions
Keeping all these factors in view, we make sure that the plantings chosen and the actual installation work are right in line with you requirements. We generally recommend that clients use native plants in their landscape. Not only are these better conditioned to the climatic conditions in the region, but are also more resistant to local pests as well.
Planting Plans and Layouts
The right choice of plants and trees can improve water-efficiency and reduce the maintenance costs of your landscape. Care will be taken to install the right kind of topsoil and all the plants and saplings are sourced from reputed nurseries. This ensures the hardiness and sustainability of your landscape. We handle both commercial and residential jobs and ensure you get outdoor spaces that are a pleasure to look at and use.
If you are looking for landscape and planting services that are customized to your needs, feel free to contact A-1 Snowplowing & Landscaping LLC at 860-872-6022. You can also send us details about your requirement through this Online Form and we will respond shortly.