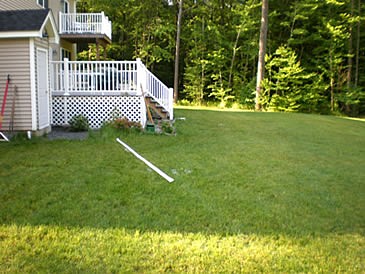 Lawns are almost an integral aspect of most commercial and residential landscapes. These features add a lot of freshness and liveliness to a yard or garden and become the perfect green backdrop for all the other plants and trees in the landscape.
Lawn installation isn't a job that you can entrust to inexperienced professionals. If you want outdoor spaces that are beautiful, sustainable and durable, you need the services of experts like the ones at A-1 Snowplowing & Landscaping LLC. We have been catering to clients in and around Bloomfield, Coventry, and East Windsor for over 17 years.
Custom Hydroseeding Services
In this time, our team has also handled a significant number of projects in Ellington, Enfield, and Hartford. We have designed creative and practical landscapes in Hebron, Manchester, Somers, South Windsor as well as the surrounding areas. We can install lawns as part of a new landscaping project or even a remodeling job.
Hydroseeding (or hydraulic mulch seeding, hydro-mulching, hydraseeding) is a planting process which utilizes slurry of seed and mulch. The slurry is transported in a tank, either truck- or trailer-mounted and sprayed over prepared ground.
Hydroseeding is an alternative to the traditional process of broadcasting or sowing dry seed.The slurry often has other ingredients including fertilizer, tackifying agents, green dye and other additives. All these ingredients help the grass grow strong and resilient.
We use only the best products and latest techniques in our work, ensuring that you get lawn spaces that will be resilient and beautiful at all times. We understand that every property will be different and it's why we customize our services and make sure that you get stunning lawn spaces that you can enjoy for a number of years.
Advantages of Hydroseeding
If planting a relatively large area, hydroseeding can be completed in a very short period of time.
Hydroseeding can be very effective for hillsides and sloping lawns to help with erosion control and quick planting.
Hydroseeding will typically cost less than planting with sod.
Results are often quick with high germination rates producing grass growth in about a week and mowing maintenance beginning around 3-4 weeks from the date of application. Fiber mulch accelerates the growing process by maintaining moisture around the seeds thereby increasing the rate of germination.
Commercial and Residential Lawn Installations
As you can see, there are a number of benefits to opting for hydroseeded lawns. But this job needs to be done in a methodical manner using good quality seeds and fertilizers. We are focused on providing the best solutions to our clients and make sure they get value for money.
In addition to installation of hydroseededlawns, our team can also provide advice on the types of plantings you can install on your property. We can handle small scale residential lawn installation jobs as well as large-scale commercial hydrosseeded lawn projects.
If you are looking for local lawn installation services that are customized to your needs, feel free to contact A-1 Snowplowing & Landscaping LLC at 860-872-6022. You can also send us details about your requirement through this Online Form and we will respond shortly.