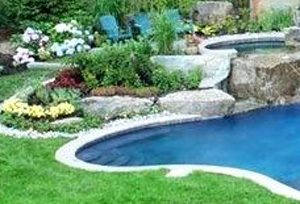 Pool landscaping isn't a job that you can entrust to inexperienced professionals. If you want poolscapes that are beautiful, sustainable and durable, you need the services of experts like the ones at A-1 Snowplowing & Landscaping LLC. We have handled projects for clients in and around Bloomfield, Coventry, and East Windsor for over 17 years.
In this time, our team has also handled a significant number of projects in Ellington, Enfield, and Hartford. We have designed creative and practical custom poolscapes in Hebron, Manchester, Somers, South Windsor as well as the surrounding areas. Depending on your specific needs and preferences, we can custom design these areas for you.
Installing Brick Pavers Around A Pool
The benefits of using pavers are both practical and aesthetic, especially if they're chosen and installed correctly. Pavers may be just the answer. They come in all variations — from the basic model to more deluxe versions that include weathered-looking tumbled pavers.
These pieces fit together into puzzles that vary in complexity from a grid pattern to intricate mosaics established by the designer. Practically speaking, this material offers several benefits such as:
Available in a variety of styles and designs to create stunning poolscapes.
They are resilient and able to weather climatic changes well.
You can choose from interlocking concrete, brick or natural stone pavers.
These are low maintenance features.
Extremely durable; which makes them ideal for poolscapes that see a significant amount of wear and tear.
Installation is quick as they need to be placed on compacted sand.
Paver poolside areas are less subject to cracking than monolithic slabs.
In case of any damage, only the individual units need to be replaced which reduces the repair costs.
They are extremely cost-effective and can be used to cover large pool areas as well.
Poolside Landscaping
If you are lucky enough to have a pool in your backyard, you know the pleasures if can provide. When it comes to landscaping around a pool, the ideas are endless. Ideas which reflect your entertainment style yet make it personal.
For some pools, the landscape around the pool may seem boring or messy. To dress up the pool and patio add plants and flowers around the pool. Plants planted directly in the ground create a more permanent layout. Taking the opportunity to landscape can turn your pool and patio area into a private oasis.
Custom Poolscape Design and Installation
When you want pool landscaping solutions that are customized to your needs, you need experts like us handling this job, our team will make sure that these spaces are planned well and that all the features are installed to perfection. If you need any seating walls or other hardscaping features installed in this space, we can handle that job too. While we provide the best quality services, we maintain very cost-effective pricing.
With us handling this project, you can rest assured that your outdoor spaces will be resilient and durable. For any more information on our commercial and residential pool landscaping services, feel free to contact A-1 Snowplowing & Landscaping LLC at 860-872-6022. You can also send us details about your requirement through this Online Form and we will respond shortly.