Aqua Roc™ II Collection
Attractive, versatile, and durable
This permeable paver boasts an attractive residential look that stands up to even the heaviest vehicular traffic. Environmentally and economically sound, Aqua Roc pavers are comfortable underfoot, meeting the Americans with Disabilities Act architectural guidelines.
Colors and Shapes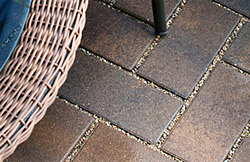 Actual color and size may vary. To assure your total satisfaction, please request samples of the style and color you're interested in.

Fossil Beige

Sable Blend

Large Unit
3 15/16" x 7 7/8" x 3 1/8"

Half-size Unit
3 15/16" x 3 15/16" x 3 1/8"
AQUA ROC™ II Specifications
Height
Length
Width
Sq. Ft.
Per
Cube
Pieces
Per
Cube
Layers
Per
Cube
Sq. Ft.
Per
Layer
Weight
Per
Cube
3 15/16"
7 7/8"
3 1/8"
90
464
8
11.25
2880 lbs.
3 15/16"
3 15/16"
3 1/8"
90
464
8
11.25
2880 lbs.
Square foot varies depending on installation.
All measurements are approximate.
Contact your local Belgard Representative for details.
Please note that an interlocking permeable paver installation will vary greatly from a typical interlocking concrete paver installation and will differ on a job to job basis. Please contact your local Belgard Sales Representative for more details. See the Belgard Permeable Paver detail at www.belgard.biz.