Dublin Cobble® Circle Collection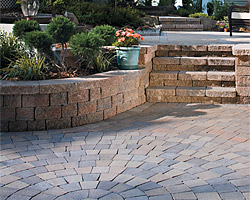 For those designers and homeowners accustomed to dreaming beyond the ordinary, circles are commonly used to add dramatic visual accents to all kinds of hardscaping projects.
Colors and Shapes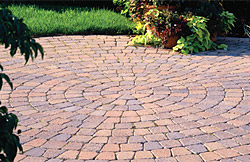 Actual color and size may vary. To assure your total satisfaction, please request samples of the style and color you're interested in.

Bella*

Brittany Blend*

Fossil Beige

Silex Grey
*NEW for 2012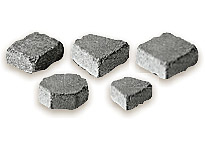 Circle
2 3/8" x 6" x variable
DUBLIN COBBLE Circle Specifications
Height
Length
Width
Sq. Ft.
Per
Cube
Layers
Per
Cube
Sq. Ft.
Per
Layer
Pieces
Per
Sq. Ft.
Weight
Per
Cube
2 3/8"
variable
6"
77.80
10
7.78
5.06
2300 lbs.
One pallet can create one (1) circle of 2.85m (9 ft. 5 in.) in diameter or two (2) circles of 1.95m (6 ft. 5 in.) in diameter; Two pallets can create one (1) circle of 13 ft. 6 in. in diameter.
Full cubes only