Mega-Bergerac® Circle Collection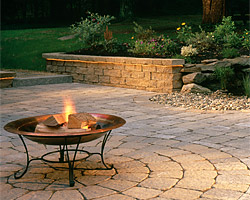 Create a work of art
Create a truly unique work of art by accenting your driveway or outdoor living space with this large scale circle pattern, featuring the very same rich colors and hand-cobbled appearance of Belgard's standard Mega-Bergerac pavers.
Colors and Shapes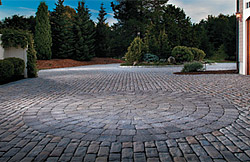 Actual color and size may vary. To assure your total satisfaction, please request samples of the style and color you're interested in.

Amaretto*

Brittany Blend

Charcoal Blend

Fossil Beige*

Sable Blend
*NEW for 2012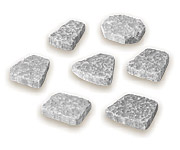 7-Piece Circle
3 1/8" x 9 1/2" x variable
MEGA-BERGERAC® Circle Specifications
Height
Length
Width
Sq. Ft.
Per
Cube
Layers
Per
Cube
Sq. Ft.
Per
Layer
Pieces
Per
Sq. Ft.
Weight
Per
Cube
3 1/8"
variable
9 1/2"
58.96
6
9.83
1.97
2470 lbs.
One pallet can create one (1) circle of 20.64m (8 ft. 8 in.) in diameter;
Two pallets contain enough pavers for one (1) circle of 12 ft. 6 in. in diameter.
Full cubes only.
Note: Mega-Bergerac pavers should be installed with the cobble side facing up.