Turfstone™ Collection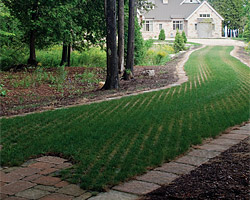 Designed to work in harmony with nature
Turfstone's unique design allows rainwater to be gradually filtered back into soil naturally, resulting in the control and stabilization of soil erosion. Its eco-friendly design allows greenery to grow right through it, creating a highly unique hardscape design that works in harmony with nature.
Colors and Shapes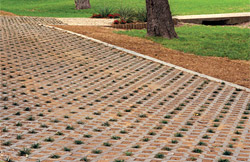 Actual color and size may vary. To assure your total satisfaction, please request samples of the style and color you're interested in.

Grey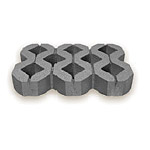 Turfstone
3 1/8" x 23 5/8" x 15 3/4"
TURFSTONE Specifications
Height
Length
Width
Sq. Ft.
Per
Cube
Layers
Per
Cube
Sq. Ft.
Per
Layer
Sq. Ft.
Per
Piece
Pieces
Needed
Per Sq. Ft.
Weight
Per
Cube
3 1/8"
23 5/8"
15 3/4"
106.80
8
13.35
2.67
*
2180 lbs.
* Turfstone (sq. ft. per piece – 2.67), pieces needed per 10 sq. ft. – 4.
All measurements are approximate.
Install units with relief joint facing up.